Check In no earlier than 4:00 p.m. ~ Check Out no later than 11 a.m.



Rustic Nashville Indiana Vacation Log Cabin located close to west gate of Brown County State Park
Brown County Indiana Honeymoon or Anniversary Cabin

A very rustic log cabin get-away! Enjoy Relaxing Soaks in the outdoor Hot Tub. The full kitchen lets you eat at home or go out and enjoy Brown County eateries.

This rustic vacation cabin is close to West Gate of Brown County State Park, next door to the (soon to re-open) Little Nashville Opry, close to the Music & Line Dance Barn, across the street from the Brown County Wedding Gazebo. Sweetheart Cabin is a great place for your wedding reception.

This Brown County Log Cabin is not far from Salt Creek Golf Resort, Brown County Playhouse, Brown County Art Gallery and all the unique shops and studios in the historic village of Nashville, Indiana.

This Nashville, Indiana vacation cabin is Easy to Find, located on St. Rd. 46.

Two night minimum stay always required in a cabin.
Please leave cabin as you found it. Wash all dishes and bag all trash.
Please be aware that this is a "log cabin" in the woods! Chinked cabins are not air-tight and do allow insects such as ants, wasps, spiders and lady bugs and an occasional mouse. Guests should store all food items in air tight containers and keep all food trash bagged. You are near a creek and need to be aware of water critters when outside. We can almost guarantee that you WILL encounter critters inside and outside this cabin, but please let us know right away if you have a big critter problem.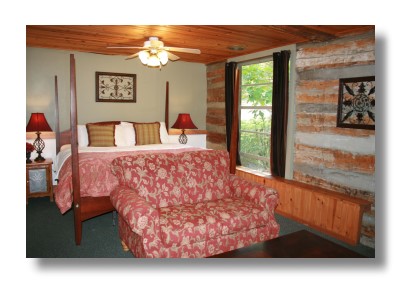 The Sweetheart Cabin will sleep up to six in three bedrooms. There is one bathroom. The cabin has a living room and kitchen.

There is NO SMOKING inside this cabin.

The master bedroom features a king size bed as well as a sitting area. The second bedroom has a king bed, the third bedroom has a full size bed.

The hot tub is outside on a partially enclosed porch.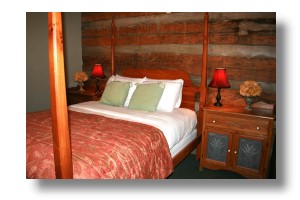 Extra bedrooms remain locked unless additional guests are noted on the reservation.

Additional bedroom fees will be applied as follows: $50+tax for additional unlocked bedroom.
Fix a snack in the fully-appointed kitchen. Please remember to store all food items in air tight containers and keep all food trash bagged.

Enjoy the outdoor hot tub. Relax on the front porch or enjoy a leisurely game of horseshoes on the rock beach by the stream that flows behind the cabin. In the evening, you can sit around the stone fire pit and roast marshmallows or just enjoy the soothing sounds of nature.

This cabin welcomes kids.

Location, Location, Location!






all information on this and any other web site is subject to change